If there's one thing that can throw off a solid pattern of healthy eating, it's travelling! Even a quick trip from Toronto to Baltimore (total airtime of just 1.5 hours), which I recently took for work, equates to 8 hours, 2 meals and 1 snack. And that's just part of one day.
Eating healthy while travelling is a huge challenge because, let's face it: a) airport food generally sucks; b) airplane food is either nonexistent or dismal at best; c) you're probably tired and cranky (and even a little "hangry"); and d) your routine is completely out of whack, making it hard to make smart choices like you would have at home. The odds really are stacked against you, especially when home-cooked food is a priority for you like it is me!
This month I bring you my most challenging What I Ate Wednesday (WIAW) post yet – I chronicled every morsel consumed en route to Baltimore. Sure, it was a short trip, but it wasn't a cakewalk by any means!
Breakfast
The airport shuttle was scheduled to arrive at 10:30 am, which gave me time to go for a quick morning run on a nearby nature trail before breakfast. I did a shorter 4-km stretch of my usual route at a faster pace and walked the rest of the way home. It's a great route with varied terrain: groomed gravel, steep hills studded with roots and rocks, open fields and winding dirt paths.
Once I got home I chugged some water, packed up my luggage and showered. Anticipating the hour-long shuttle bus ride ahead of me, I purposefully kept breakfast very light–half a whole grain English muffin spread with light garden vegetable cream cheese. Car/bus/van travel doesn't exactly agree with my stomach!
Lunch
At the airport I caught up with my colleagues and we sat down for a quick light lunch at a bakery. When looking for a midday meal, I try to find food with a mix of lean protein, a little fat, vegetables and a bit of carbs (but not too much). The chicken salads looked a bit questionable so two of us decided to split a turkey bacon wrap with cheddar and vegetables. It was actually pretty good quality. I also had a green tea to make up for the coffee I missed in the morning.
Midday Snack
On the plane I had a cup of ice water (a huge relief since the plane was really warm) and a bag of those little salted pretzel thingies. I'm not sure why, but air travel seems to encourage salty food cravings even more than usual.
Dinner
Once we checked into the hotel in the inner harbour area of Baltimore, we popped by the convention centre to check that our trade show booth was in order. Everything looked good, so the four of us headed over to McCormick & Schmick's steak and seafood restaurant for a team dinner with our execs.
We sat out on the patio in the sunshine overlooking the harbour. I normally don't bother with appetizers at restaurants because I tend to get full before the main arrives, but I enjoyed a few bites from the shared platters: three pieces of fried calamari dipped in marinara sauce, one piece of bacon-wrapped shrimp, a nibble of tuna sashimi with avocado (not shown) and a forkful of delicious crab cake (also not shown). I have to say, it's tough to snap photos of everything, especially when dining with colleagues!
I sipped on a crisp, refreshing gin and tonic while awaiting my entree. When it comes to mixed drinks, I like to steer clear of those made with sugar or sweet juices and soft drinks. Not always, but usually.
For my entrée, I went with the Chilean sea bass in a miso broth with stir-fried vegetables and udon noodles. (Non-fried) seafood is generally a good choice when you're trying to eat healthier at a restaurant, and I was craving some seafood on our first day by the ocean. We had a crisp white wine with dinner (not shown), though I didn't order it so I don't recall what kind.
Evening Snack
Later on at the hotel I had a handful of wasabi peas while watching Netflix in bed. All in all, it was a pretty solid day of eating considering we had no choice but to eat at restaurants for every meal. I can't say that the days that followed were always über-healthy, but it wasn't too bad!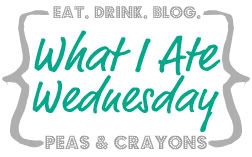 (Visited 255 times, 1 visits today)