Hi there and happy Wednesday! This past week has been super busy with last minute Christmas planning and packing for our family trip to Curaçao, so this edition of What I Ate Wednesday (WIAW) is going to be short and sweet!
In my last post I gave some tips on how to navigate a holiday potluck in a healthier way. In the spirit of following my own advice, I tracked everything I ate and drank the day of my husband's extended family's annual Christmas potluck.
The food's always good and there's lots of it given the large size of the group (more than 50 people I think!), but I managed to keep things fairly balanced.
Check out my full day's worth of eats below:
Breakfast
I kicked off the day with a breakfast of champions: scrambled eggs, a piece of buttered whole grain toast, a hashbrown and three strips of bacon along with a cup of plain tea (enjoyed while watching my husband and in-laws play Donkey Kong on Wii U). Not a bad way to start the day!
Lunch
Around noon we headed over to my husband's aunt and uncle's house for the annual Andrews family Christmas potluck lunch. I filled my plate with a few cocktail meatballs, turkey with stuffing, green beans, mashed potatoes, quinoa salad with vegetables, baked beans and half a buttered white roll. (This photo was taken halfway through my meal so some of it has already been eaten. Oops!)
For drinks I had a bottle of water and then split a Coors Light with my husband later on. When dessert time rolled around, I inhaled a few squares of those addictive peanut butter marshmallow things that seem to show up everywhere. So good!
Dinner
Back at home later that night, I threw together a quick stir-fry of frozen vegetables, cubed extra-firm tofu and some leftover cooked quinoa. I had made the exact same dinner a few weeks ago and decided to replicate it that day because of the convenience factor. Water was my drink of choice as per usual.
Snacks
I'm not even kidding when I say that we still have Halloween chips kicking around the house! I busted open a bag of the regular ruffled kind around 10 pm while enjoying Gilmore Girls reruns on Netflix. I love chips, but even more so when they're enjoyed in single serving sizes. It makes it much harder to stuff one's face.
That wraps up my 7th WIAW post, holiday potluck edition. I'll be posting a new recipe tomorrow (finally) so be sure to check back if you're in need of a festive appetizer idea featuring…yum…cheese!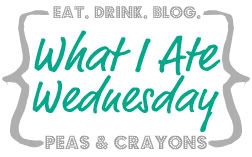 (Visited 276 times, 1 visits today)