Hey there and happy Wednesday! It feels like a while since I last chronicled a day's worth of eats as part of What I Ate Wednesday (WIAW). I skipped October because frankly it was pure madness – more business travel, (Canadian) Thanksgiving, friends weekends, Halloween, etc.
This month there were fewer weekend obligations so I made sure to squeeze in a good old WIAW post. Alright, let's get to it!
Breakfast
I love me some eggs on the weekends! I had a few vegetables and herbs lying around that needed to be used up, so I made a quick breakfast scramble with chopped red pepper, onion and parsley. On the side: three ready-crisp bacon strips and half a whole grain tortilla for scooping. The red sauce you see is sriracha because I can't go a day without the stuff, especially when eggs are involved.
Coffee is my daily morning drink on weekdays (that is, at work), but I shelved our own coffee maker a few months ago to make more counter space and have been too lazy to dig it out since. Orange Pekoe tea (black) has been the new morning staple on weekends.
Lunch
If it's a weekend day and I'm at home, there's a 90% chance there's some sort of food photoshoot going on between the hours of 11 am and 3 pm. Now that we've changed our clocks back an hour, it's completely dark outside when I get home from work and impossible to get naturally lit food photos from Monday through Friday.
On this Saturday I had just finished shooting the smoked salmon platter and Thai pumpkin soup for Thanksgiving Week and decided to turn some of the leftovers into lunch. I don't usually go to the gym on Saturdays, so having a light meal was just right for that afternoon.
Dinner
The snowy weather inspired me to reach for pasta when dinnertime rolled around. (Note: This photo was taken during the week, but the leftovers I ate for dinner that following Saturday was virtually identical – same portion size with no other additions or modifications, other than messier plating!)
There were two half-full boxes of different noodles–spaghettini and linguine–kicking around my cupboard so I cooked them both together. Mixing pasta shapes isn't ideal because of differences in cooking times, but hey – I'm not cooking for the Queen of England! Just me and one hungry, overworked husband. See, cooking doesn't always have to be this big "thing". Just make food using what you have!
I still had some onion and parsley to use up, along with one forgotten but still perfectly fresh carrot, so I shaved the carrot with a vegetable peeler and combined everything (except the parsley) in a hot pan with a can of chickpeas. Once the noodles were cooked, I tossed them with the vegetable mixture and parsley and stirred in a few spoonfuls of store-bought pesto. Not bad for an odds-and-ends meal!
Snacks
My throat was feeling a bit dry thanks to the sudden icy weather, so I made a small bowl of Campbell's chicken noodle soup as an afternoon "snack" (more like medicine!). I followed that up with some more tea.
I hope you enjoyed this edition of What I Ate Wednesday! Check back in a few weeks for a holiday themed WIAW.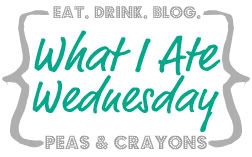 (Visited 225 times, 1 visits today)