Hi there and welcome to the latest edition of What I Ate Wednesday (WIAW)! This is my fourth WIAW post and I'm still digging the process as much as when I first started. It's still a bit of a challenge to remember to photograph everything (I always seem to forget snacks and drinks!). But when I do, I'm always sure to tell you about them so that the whole day's worth of food is captured.
I'll quit yapping now and get to the "meat" of the post (even though this day contained no meat! Ha ha). I should note that when I use the term "vegetarian", I'm referring to a lacto/ovo vegetarian diet which excludes most animal products but includes dairy products and eggs.
Here's what I ate:
Breakfast
Eggs are one of the best breakfast foods in my humble opinion. They just seem to fill you up like nothing else and are the perfect vehicle for delicious savoury flavours like curry powder, fresh salsa and different kinds of cheese.
Today breakfast took the form of a simple fried egg served with a few spoonfuls of store-bought salsa, sliced jalapeños, three wedges of laughing cow light cheese and half a whole grain tortilla for scooping. I grabbed a black coffee once at the office and sipped it all morning while catching up on emails.
Lunch
Having the option to eat outside during the workday is THE BEST, and I've been taking advantage all summer. I like to bring my lunch and a magazine or book out to the picnic tables behind our office building and soak up the rays for a little while. It's a nice break to be away from the computer and surrounded by nature. (Except for the time we got crapped on by crows…not cool!)
On this particular day I kept lunch simple and light with half a container of store-bought lemon dill hummus and some fresh cucumber spears, radish slices, yellow bell pepper strips and baby carrots. The mix of bright colours makes the veggies all the more enjoyable to eat!
Water is almost always my beverage of choice at lunchtime, and today was no exception. Note the 1-litre mason jar in the corner – I've found that having a larger than usual vessel makes it easier to drink more water throughout the day.
Dinner
Right after work I headed across the street to the gym for my twice-weekly physique/barre class, an intense (and exhausting!) 60 minutes of dance-based strength training movements combined with cardio and light weights. It's one of the most enjoyable, rewarding workouts I've ever done and after a year and a half I'm still hooked. I'd highly recommend seeking out a similar class if you want rock-hard calves, glutes, quads and hamstrings and a tight core!
Anyway, I'm usually full enough from lunch that I don't find the need for a pre-workout snack, and because I eat dinner within an hour of finishing up at the gym, I don't bother with a post-workout snack either. Instead, on days like this I make sure to drink plenty of water to stay hydrated and then return home to whip up a nice home cooked meal.
It being a Friday, dinner on this night was a pretty indulgent (though still vegetarian…surely that counts for something!) platter of nachos – in other words, perfect TGIF food! I spread a layer of nacho chips on a baking sheet, topped them with cheddar cheese, avocado and chopped vegetables and baked until the cheese was melted and the chips were lightly golden.
This dish isn't health food by any means thanks to the chips and cheese, but it was a well earned and very enjoyable treat after a solid week of nutritious eating.
Snacks
Our cherry tomato plant is bursting with ripe fruit, so of course I sampled a few tomatoes here and there. If I forget to pick the ripe ones even by just a day, they burst open right on the vine. It's like catnip for the squirrels and chipmunks!
Around 8:30 pm my husband and I enjoyed a glass of wine in our basement "theatre", a.k.a. man cave, while watching the Lego Movie. I'm officially addicted to the song Everything is Awesome!
I was pretty full from the nachos so didn't feel the usual snacky urge I get most evenings, plus we turned in early enough that the craving that would've kicked in later at night didn't happen. Not too shabby for a Friday.
There you have it – another day of eats in honour of What I Ate Wednesday. Hope you enjoyed!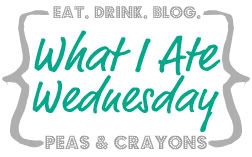 (Visited 269 times, 1 visits today)