Unlike my last What I Ate Wednesday (WIAW) post, this week's attempt is a much more accurate depiction of how I eat the majority of the time. Because I work a full-time office job, my daily routine is pretty much the same from Monday to Friday. Being in the same environment day after day can get boring for some, but I love the routine of it and actually find that it helps me stick to a healthier lifestyle.
My meals, gym and running schedule are like clockwork. While the foods, exercises and routes change, the schedule and time of day remains the same during the week. This routine, plus the fact that I know I'll be sitting on my butt for around 7 hours per day, 5 days a week, acts as an incentive to eat extra healthfully on weekdays.
So without further ado, I bring you my third WIAW post from a typical workday.
Breakfast
I was in a bit of a rush this particular morning, trying to find something decent to wear (my summer wardrobe is quite blah at the moment), so my breakfast was lightning quick, albeit a little boring: a toasted whole wheat English muffin topped with 1 tbsp of peanut butter per half. For my morning beverage fix, I grabbed the usual mug of black coffee once I rolled into the office at 8:15 am.
Lunch
Canned tuna is a workday godsend! It's convenient, easy to work into a variety of meals (salads, pastas, sandwiches, wraps) and rich in protein and healthy fats – both of which keep you feeling full. This is just what I need on days like today when I'll be sweating it out at the gym right after work.
Lunch today (again, like clockwork – 12:30 pm on the dot) was pretty standard, but the bonus was getting to enjoy it outside in the sunshine! I munched on a salad of red leaf lettuce, shredded carrots, Romano beans and a bit of quinoa for texture, dressed with a basic vinaigrette and served alongside the tuna mixed with a dollop of Greek yogurt.
Back indoors, I "chased" lunch with a cup of plain mint tea as per usual. I find it helps settle the stomach after a meal, and also soothe the mind and spirit before an afternoon conference call!
Dinner
Around 6:00 pm, right after the gym, I read a few pages of Cosmo to unwind and then got cracking on dinner. Today it was a gorgeous centre-cut, skin-on fillet of salmon, rubbed with a bit of Thai red curry paste, seasoned with salt and pepper, topped with lemon slices and baked at 400°F until flaky but still moist.
I cook with seafood fairly often, but have to say that this is one of the most delicious pieces of salmon I've ever made. Is it because the fillets were fresh from the fish counter and not the frozen shrink-wrapped stuff I usually buy? The answer is probably obvious, but if someone could weigh in on this in the comments section of this post, I'd appreciate it :)
As for the sides, I roasted some mini potatoes seasoned with paprika and then threw together a quick fresh salsa made with grape tomatoes, onion, jalapeños, cilantro and cucumber. I had most of the ingredients from when I made mango salsa a few days before, so the choice was a no brainer. Happily, the jalapeños were actually spicy – lately the ones I've bought have been as mild as a bell pepper.
The weather has been pretty hot these past few days, so I've been guzzling ice water like it's my job. Dinnertime was no exception!
Snacks
Ah, snack/TV time! Season two of Orange is the New Black is on Netflix as of a few days ago, so around 9:30 pm I nestled into the couch with a small bowl of potato chips (not pictured, though they were Miss Vickie's Sweet Chili & Sour Cream in case you're wondering) and caught up on the first two episodes.
When it comes to snacking, portion control is my best friend! I always use the same small bowl, fill it up once and then eat until they're gone. The brain is funny that way…back in university I would eat straight from the bag and go through half of it easily, but I feel just as satisfied, and also way less bloated, using a small bowl and eating much less.
I didn't realize until this very moment that I had fish for both lunch and dinner. I guess actually seeing and evaluating what you eat is one of the perks of tracking one's diet! Anyway, that wraps up this edition of What I Ate Wednesday. Until next time – happy cooking!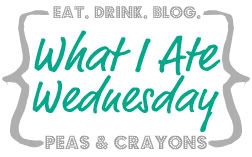 (Visited 270 times, 1 visits today)