Welcome to my second official What I Ate Wednesday (WIAW) post! (View my first attempt here.) If you've never heard of What I Ate Wednesday, be sure to stop by Peas and Crayons for an explanation, plus a bunch of cool meal ideas from other bloggers.
To keep things interesting around here, I decided to centre this week's WIAW post around my sister-in-law's baby shower last weekend. We can't wait to greet our brand new niece or nephew in just a few weeks, and the shower gave us ladies a good excuse to shine some love (and gifts!) on the glowing mom-to-be.
My mother-in-law, other sister-in-law and I played chef all day Saturday, chopping, slicing, sautéing, melon balling and baking our hearts out. In the end, we ended up with enough appetizers, mains and desserts to feed 50 people. Not too shabby!
And now for the meat 'n' potatoes of this post: what did I eat that day? I missed a few photos but did my best to describe everything. Here's a recap:
Breakfast
We started cooking in the morning, so there wasn't much time for a proper breakfast until later. I grabbed a cup of tea and got to work.
One of my jobs was to prep, slice and plate 100 or so antojitos (whole wheat tortilla pinwheels with a Mexican-inspired avocado, cream cheese and green chile filling). Rather than toss the wonky end pieces, I ate a couple of them – both as a taste test and convenient morning snack!
After filling half a dozen quiche shells, I made myself a quick fried egg for breakfast (which I burned) along with a palmful of cubed ham and some white cheddar destined for the next round of quiches.
Lunch
We arrived at the community centre a few hours early to decorate, set up tables and chairs, organize the games and arrange the food. Shortly after everyone arrived, we put out the appetizers, mains and sides. On the shower menu:
Quiche (asparagus and goat cheese, ham and cheddar, broccoli and cheddar)
Baby spinach salad with strawberries, shaved Parmesan cheese and balsamic vinaigrette dressing
Mediterranean pasta salad with artichoke hearts, cucumber, cherry tomatoes, feta cheese and vinaigrette dressing
Whole wheat antojitos
Veggie platter with Greek yogurt dip
Baby carriage fruit bowl
Mini lemon cupcakes
Pitter patter cookies shaped like little feet
Tea
Coffee
Sparkling punch
I grabbed a cup of punch and quickly assembled a plate consisting of a slice of ham and cheese quiche, a scoop of pasta salad, some vegetables and dip, a devilled egg and two antojitos. Before the gift opening, I had a "pitter patter" cookie for dessert and a cup of tea. Oh, and another cup of punch!
Dinner
When four o'clock rolled around and most of the people had left, we cleaned up, put everything away and headed back to my in-laws' house. We didn't have dinner until my husband and I were back home in Guelph, about an hour-and-a-half drive.
Happily, we made too much food for the shower, so we were able to grab a bunch of tasty leftovers that were never served. I chopped up some extra vegetables (red peppers, cauliflower and carrots, to be exact) and cooked them in a pan with 1 tsp olive oil until crisp-tender. Then I added about a cup of leftover pasta salad to the pan, mixed it all together and dug in. Dessert was another pitter patter cookie followed by a cup of jasmine green tea.
All in all, it was a fun and memorable weekend. My meals were pretty nourishing and balanced throughout, though I ate a little more than usual. No worries…back on track come Monday!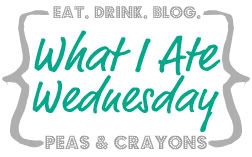 (Visited 285 times, 1 visits today)