Healthy eating isn't always easy. Actually, scratch that – healthy eating is almost never easy! It takes a lot of planning, mindfulness and willpower to stay on track, especially these days when food–usually of the not-so-healthy variety–always seems to be within arm's reach.
I recently came across a super awesome idea that I LOVE called What I Ate Wednesdays, created by Jenn over at Peas and Crayons a few years back. Clearly I've been living under a rock!
The idea is that you document and share photos of what you actually ate for one full day, and then post and link them up on Wednesdays. The point isn't to judge but to simply get a peek of what other people like to nosh on in their day-to-day lives. How cool is that?
I've decided to join the fun with my own What I Ate Wednesdays (#WIAW) posts! I think it'll be a fun new challenge and serve as extra motivation for myself to eat a little more nutritiously. The odds are good that a few treats will sneak in (case in point: this first post featured lots of cheddar cheese), but that's ok – this is real life, and in real life things aren't black and white. Especially when it comes to nutrition.
I'll be chronicling my WIAW photos on Instagram, so follow along if you'd like! You can expect the full day's breakdown on my blog one Wednesday per month complete with recipes whenever possible/applicable.
What I Ate Wednesday #1
My first WIAW post is from a low-key Saturday. (It took me longer than expected to get this blog up and running, so this particular Saturday was a couple of weeks ago now.) I spent the day taking food photos, going to hot yoga and then watching the Good Wife on Netflix. Here's what I ate…
Breakfast
I started the day with a fried egg whole wheat tortilla wrap topped with a pickled jalapeño slices, two strips of ready-crisp bacon and some cheddar cheese. And black coffee. Always, always black coffee.
Eggs are by far my favourite breakfast food for the simple fact that they're so filling! This breakfast left me feeling energized and satiated well into the early afternoon (very helpful since I shoot 90% of my food photos on Saturdays). It could've used some fresh fruit, but it simply wasn't in the cards that day.
Lunch
Around 2 pm I inhaled a quick, light lunch made of random leftovers: some red quinoa tabbouleh made the previous day for the blog, plus a can of tuna mixed with 1 tbsp of Miracle Whip. I washed it down with a big cup of ice water. During the week I like to have mint tea after lunch (thank you work for the free tea :) ), but at home we're currently out of tea bags.
Dinner
No matter what day it is, my favourite meal of all is dinner, hands down. My husband and I like to make pizza every Friday or Saturday night, and this day was no exception!
On my way home from the gym, I bought a ball of pre-made whole grain pizza dough and used it to make one large rectangular pizza (3/4 of the ball) plus two calzones (the other 1/4 of the dough ball). In addition to the typical tomato sauce and a mix of mozzarella and cheddar cheese, my half of the pizza was topped with onions, pickled jalapeños (the same kind as from breakfast) and hot Genoa salami. I was pleasantly stuffed after three pieces but went back for a fourth later that night :) Again, ice water was the drink of choice.
Snacks
I didn't have much in the way of snacks on this particular day (this is rare), other than a few nibbles of feta cheese from the chipotle tofu tacos I photographed in the afternoon. I suppose my late night slice of pizza technically counts as a snack, though!
Well, that wraps up my first WIAW post. Leave a comment and let me know your thoughts!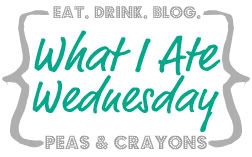 (Visited 132 times, 1 visits today)